Ever since gambling began to move online it has gained popularity. But, some of the innovation on the horizon promises to make it even more popular.
Online gambling gives more people access to more online gambling options. It's also very lucrative and therefore attracts a lot of technology investment. In fact, the technology innovation being driven by the gambling industry is already filtering into other industries.
Source: Pexels
The latest trend that's already underway is Bitcoin gambling. Cryptocurrencies like Bitcoin, are increasingly finding their way into the mainstream economy. At Bitcoin casinos, customers play with Bitcoin rather than cash – which cuts down on the cost of transferring funds in and out of an account. Bitcasino is a good example of a website that is popular with online gamblers, because it only allows for Bitcoin deposits and withdrawals.
The fact that so much investment is going into gambling technology and blockchain technology at the same time, is sure to lead to some interesting combinations. New blockchain platforms are being developed that allow any developer to invent and cheaply launch a game that allows people to gamble with real money.
But perhaps the most exciting developments involve virtual and augmented reality. Ever since casinos started experimenting with online games, they realised that the more they could emulate the atmosphere of a casino, the more customers they would attract.
When Pokemon Go launched in 2016, tech companies realised how powerful, and profitable, augmented reality could be. And now they are investing big in online casino applications. Augmented reality adds sensory inputs to the gambling experience. For instance, when you win you can experience the effect of cash raining down on you, or coins bouncing off your head. Augmented reality inputs can even gauge your emotions by reading your body language – and then respond accordingly.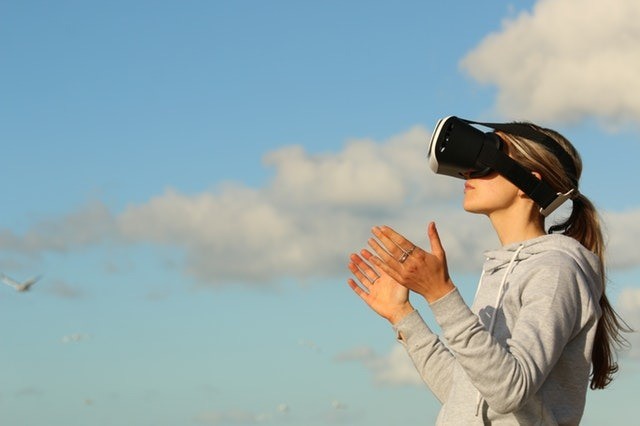 Source: Pexels
Virtual reality takes things to the next level. When customers wear headsets when playing casino games, they can have an immersive 360-degree view of a casino, complete with all the sounds. Customers will be able to walk around the casino, choose a table to play at and sit down. They will see other players walking around and playing, and be able to interact with them. And remember, this is all happening in the comfort of their own home. There are no travel expenses and no hotel booking hassles. Gamblers can also play whenever they have 15 to 20 minutes free, allowing for the very popular burst-style gameplay associated with smartphones and casual games.
All of this is not limited to casino games either. Sports betting will also be an immersive experience soon. Imagine betting on a horse race, and then watching the race at a virtual racetrack. The same goes for football and other sports that are popular amongst gamblers.
Esports is another industry that is merging video gaming with gambling, in the form of eSports betting. Esports enthusiasts get to watch their favourite video gamers playing a game – while immersed in the game. It's no surprise that big name investors like Mark Cuban are investing in this growing niche.
The popularity of online games like Angry Birds and Farmville, and AR games like Pokemon Go, have proved how quickly a game can become a massive hit. Now that gambling and immersive experiences are being added to the mix, we are sure to see some exciting developments in the coming decade.