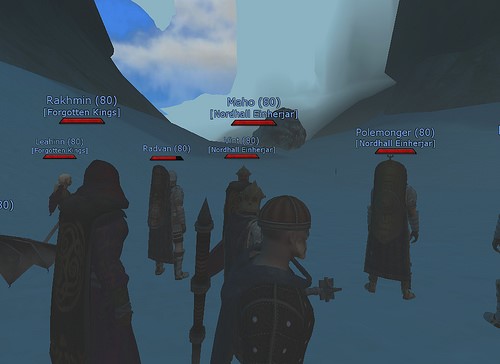 "Going to kill Yakhmar" (CC BY 2.0) by Alt-x
Remember way back in 1987 when Nintendo developed the Family Computer Network System? Or when Sega came up with the Sega Meganet in 1990? These networks were primitive and only featured a few select games, but paved the way for what we know today. Gaming companies have dabbled with online gaming for years, but it's only in recent times and thanks to franchises like Call of Duty that online multiplayer games have become one of the most popular forms of playing. This is because technology has evolved to a point where massive online worlds can exist, and it makes for a totally immersive and enjoyable experience.
The gaming world is now at a stage where nearly everything has an online element, and what mainly started out in MMOs has spread to other sectors, such as the gambling industry. Plenty of online casinos are now taking inspiration from games that offer a multiplayer and social experience. Guts for instance, which is one of the best online casinos in the UK, has a live casino that links players at home to real-life tables in casinos. Players can play games like blackjack and roulette which are operated by real croupiers at the same table as other online users. And some sites are looking to create more social experiences using the global network by including chat features on these games as well, where players can chat to others at the table along with the dealers.
This has all stemmed from the rise of online gaming, and sectors like online gambling have found that they need to incorporate more multiplayer elements to keep modern audiences interested. The need for this was highlighted by the revenue generated by MMOs in 2016, which amounted to $19.9 billion. These impressive numbers show just how big online gaming has become, and why every company needs to get in on the act.
Console gaming has been offering online multiplayer modes for some time now, and the games in the Call of Duty franchise are perhaps the frontrunners in terms of success from this. Some players only buy the games for the epic online campaigns, and this is underlined by some interesting facts surrounding the franchise. Some of the most mind-blowing statistics are that all the Call of Duty players combined rack up almost 2000 years of game time per day, and that the games have been played for over 25 billion hours.  
The fact that internet speeds have got so much faster has certainly helped online gaming reach these incredible heights. In 1993 households were limited to slow, dialup internet connections, but now with technology such as Google Fiber, it is over 100 times faster. Another factor is that gaming technology and accessories have come such a long way and helped create much more immersive gaming experiences. Players are able to communicate and work together online using state-of-the-art wireless headsets like the Arctis 7. They also use webcams so they can see the players that they are collaborating with.
Perhaps in the future, virtual reality headsets like the HTC Vive and the Oculus Rift will help to take these multiplayer games to the next level. Allowing players to actually enter sprawling online worlds and continue these multiplayer experiences seems like the next logical step in the evolution of online gaming. The projections for the VR market are that by 2020 it will be worth over $84 billion, and it seems fair to assume that these figures would be impossible to achieve if the massive online gaming market wasn't on board.
From the way the online gaming industry has evolved so much in the last three decades, it is exciting to think what players could be doing differently in a few years. There is absolutely no doubt that developers will now be focusing most of their attention on creating even more immersive online experiences.