A road trip is an amazing summer experience until you add a backseat of screaming kids to your cross-country plans.There are only so many times you can break up a fight in the back before you lose your patience. If you expect to survive a summer on the road with your sanity intact, you need to protect your kids from boredom. Whether you're planning a meandering trip between coasts or a simple drive to the neighboring state, stock up on these essential gadgets before you leave this summer. They can help you manage your kids, so you can focus on the drive.
Set up an in-vehicle theater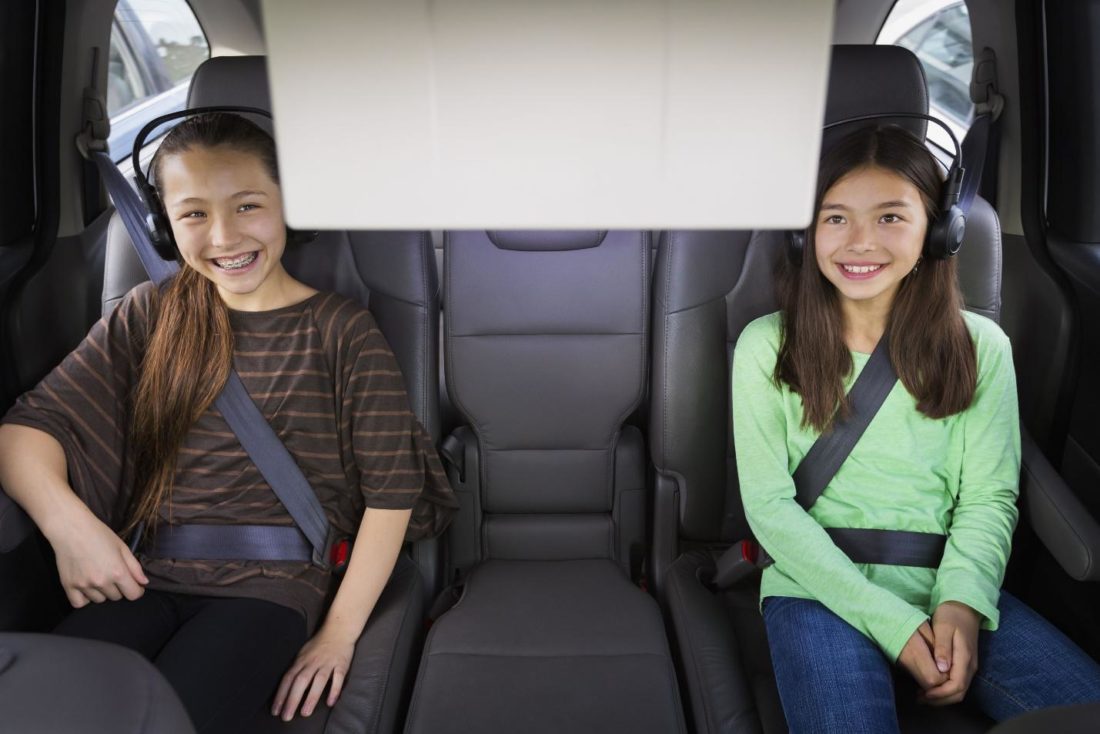 If watching the scenery fly by their windows isn't their idea of a good time, consider making your vehicle into a moving theater. All you need is an iPad or tablet, a USB drive, an audio cable, and a mount to set everything up. Install the mount that fits your device in a convenient place, viewable from every spot in the back. Wherever you put it, make sure your audio cable and your USB charger can reach your console's DC inverter.
In the lead up to your trip, fill your USB drive with family favorites and some new releases. You can even download some movies and shows from Netflix onto your account, eliminating the need to stream content. That way you'll have an easy distraction when restless kids start to lose their patience in the car.
Pack a portable gaming console

Like a movie, a game can keep your kids occupied with minimal effort on your part. The Nintendo Switch is all about multiplayer gaming, so it's an ideal console for a road trip with kids. Its Joy-Con controllers split into two for local cooperative play, which means your kids can compete on the Rainbow Road while you drive along Route 66.
Most parents are keen to cover the switch in a decal to protect it from life on the road. If you want to do the same, make sure you choose a skin from dbrand. Only the folks from dbrand take outfitting the Switch in protection seriously, which is why they spent a full year working in research and development with 3M to create the first Nintendo Switch skins that won't damage the device's unique surface material. You can find colors exclusive to Switch skins at dbrand.com/shop/nintendo-switch-skins, where you can see how they look with their skin builder. They come with the company's grime-resistant and scratch-free guarantee, plus a brand new screen protector, to ensure the Switch is safe against spilled drinks and dusty campsites.
Download a kid-friendly podcast

While you and your partner may prefer to listen to This American Life or Comedy Bang Bang, these popular 'casts are inappropriate for the youngest in your family. These adult podcasts will drive them out of their skulls with boredom if they don't inspire a string of questions about rude topics.
Avoid restless kids and awkward conversations by researching children's podcasts. From Tumble and Wow in the World to Story Piratesand What If World, there are educational and storytelling podcasts that the whole family will love — including the adults. Check in with this list of the 23 best podcasts for kids to see what you need to download for your upcoming trip.
A road trip can be a unique way to see the country. It can also be a unique way to lose your cool if you aren't prepared to entertain your kids through the monotony of the road. Stock up on the right tech to fight back against bored kids who get vocal in the backseat. The whole family will thank you!