We all know that Heathrow airport is one of the world's biggest hubs and it is for this reason that I have, on 4 separate occasions, found myself with a long layover in Heathrow. During these experiences I have now successful learned how to navigate such an event and should it happen again I will most certainly be looking forward to enjoying the waiting time ahead of my next flight.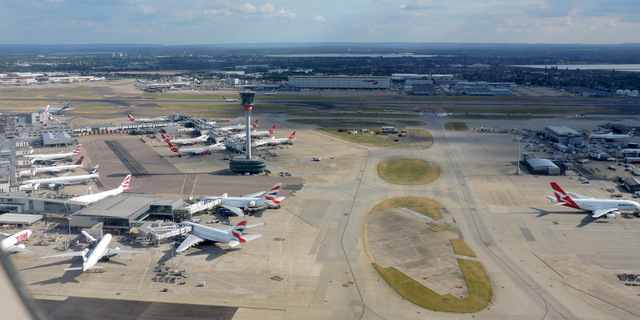 The first time was a disaster, I skipped the hotel, tried to grab some Z's in the airport and failed to see all of the options available. Each time got better and here is my guide to entertaining yourself on the layover.
Hotel
Getting a hotel will depend on how tired you are and at what time of the day your layover is. I would suggest getting a hotel for layovers of more than 9 hours or layovers throughout the night.
City Tour
Here is one that you need to plan ahead for, a city tour of London, available from Heathrow and as long as you have 8 hours spare before your next flight, this is certainly a do-able tour. In fact you will be able to see Buckingham Palace, Tower Bridge, the Tower of London, Big Ben and the House of Parliament on this short tour, a perfect way to enjoy a new city and do so while-you-wait.
Company 
If you have an overnight layover and get a hotel, a great way to spend it is to seek out some company so that you can inject some fun into proceedings. You'll be surprised at the number of beautiful Heathrow Airport escorts which are on offer to you, beautiful men and women who will meet all of your companionship demands. Alternatively you could try your luck on a dating app, and see if anyone else is looking for a one-time only meet up. If you are on your own then you don't have to be, look for options so that you can enjoy some company.
Rest and Recuperate 
Last time I didn't get a hotel as my layover was between 10 and 8 during the day, so instead I decided to indulge in what the airport had to offer. The best experience which I could have hoped for was the spa session which I booked up for ahead of time. I thought initially that this would be an express treatment but I was very wrong indeed. After getting off my 8 hour flight from Boston I was welcomed with open arms to the spa center in Terminal 5, where I was given a massage, a manicure, pedicure and facial, with a Reiki session to finish with. The spa treatments took up 2 hours of my layover and I left feeling revitalized and refreshed ahead of my next flight, the perfect choice.
Shopping
This is one of the best airports which I have found for shopping and as long as you set yourself a price limit you can have a wonderful time getting some real therapy. From Louis Vuitton to Hermes, Ralph Lauren to Gucci, you name it they've got it. What I love about shopping here is that they very often have airport-only exclusives which you won't find in the high street.
Kids
If you have kids then there are some play centers inside the airport but given that they'll probably be tired I'd suggest an airport hotel. Many of these hotels are right inside the terminals so it makes everything easier on the parents. Alternatively you could take a taxi to the beautiful town of Windsor, just 30 minutes away from the airport. This is a quintessential English town which is beautiful and has plenty of stuff for kids. Make sure that you don't travel at peak times and always leave enough time to get back for your next flight.
Prepare well and your layover will be a breeze.