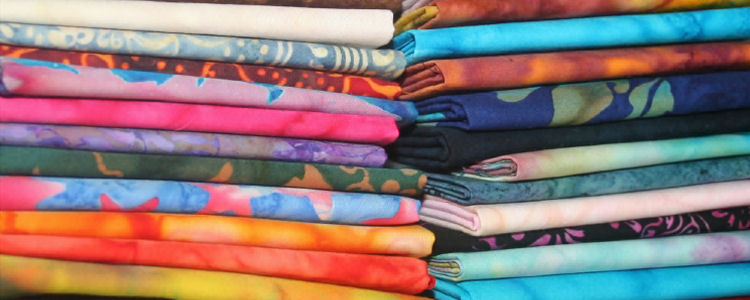 If you are thinking of designing and sewing a custom piece of clothing or linen an adequate material should be chosen wisely. There are chemical and natural fibres to choose from. Each has its advantages, disadvantages and fits a certain type of garment. You can shop for as many meters of the material as your project would consume.
Natural materials are of  vegetal and animal origin including:
Cotton which originates from Gossypium. It is soft and pleasant to the touch, comfortable to wear, durable to stretching and breathable. Cotton is highly hygroscopic. It absorbs sweat and water without the sense of wetness. Without the addition of any other fiber cotton tends to crease a lot, so it is commonly mixed with artificial materials.
 Flax – also of vegetal origin is extremely durable to stretching, multiple washing, seawater and many more conditions. It is also highly hygroscopic and can absorb up to 25% of moisture. It is antiseptic and proves to be resistant to many kinds of bacteria, fungi and moles.  Like pure cotton flax can be easily creased without any additions and can be hard to iron. It is mostly mixed with elastane, polyester, viscose, silk or wool.
Silk – a material of animal origin is very durable to stretching, shows great resilience, resistance and keeps a body warm. It is both hygroscopic and thermally insulating. Silk tends to gloss and is very pleasant to the users touch. Generally speaking silk is not as durable as the previous materials, it can lose its properties due to long sun exposure and can be easily ruined by moles. This makes it harder to maintain.
Wool  – of animal origin is the most hygroscopic material of all (absorbing up to 50% od moisture) which insulates the skin. The disadvantage of this fabric is lesser creasing resistance and sun vulnerability. With additions of other materials wool tends to be more durable and pleasant to the touch. Woolen garments are extremely warm.
Chemical fibres:
Artificial ones are made of natural ingredients such as cellulose or rubber. They are highly resistant to all kinds of bacteria, fungi and moles. Artificial material can absorb a vast amount of moisture. The obvious disadvantage of such fibres is low creasing and creasing resistance and flammability.  The best examples would be viscose and acetate. The production of these fibres  is very low-cost and maintaining them can be easier than the naturals.
Synthetic materials are made completely of non natural ingredients. This materials are very durable, creasing resistant, easy to wear and do not need any ironing. Synthetic fibres are resistant to bacteria, fungi, moles, sunlight but less breathable. They also have lesser hygroscopic properties than the natural fibres and are extremely flammable. Synthetics include nylon, polyester and elastane.
It is wort mentioning that good sewing materials can be bought in a stationary shop, which specializes in such trade or online. The seller can provide us with al the important information about the fabrics and the use of them, so the order matches our specific needs. Designing your own pattern can be an interesting idea. Ctnbee.com is a perfect place to buy custom and stock materials for sewing. At this address you can easily order the desired amount of fabric to make an ideal tailored garment.