If you want to make some changes to be environmentally-friendly and reduce your carbon-footprint, a good place to start is right at home. If you want to know what sustainable home improvements are out there, here are some commendable options that you should think about.
One of the biggest reasons why your home could have a sizeable carbon footprint is the overconsumption of energy. The solution isn't to suffer without the technology that you need —the solution is to make sure that you aren't wasting more energy than you have to. A good way to start your green home remodeling project is to hire a professional to do an audit to confirm exactly how much energy your home is wasting and the measures you need to take to fix this problem.
Your energy audit will likely reveal overconsumption for heating or air conditioning, depending on what season it is. This overconsumption tends to happen because the house isn't properly insulated, which lets air leaks and drafts indoors—homeowners will then turn up the heating or air conditioning in order to moderate the temperature, even though it won't improve. To stop unwanted air leaks and drafts you should get high quality replacement windows and doors made of energy-efficient materials for your renovation.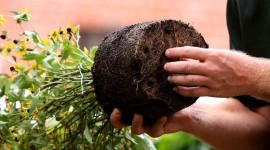 Energy-efficient windows use innovative materials like low-emissivity glazing and warm edge technology spacers to help regulate the house's indoor temperature even during the hottest and coldest days. To get a door that is more energy-efficient than the door you already have, find a replacement with an insulating material like fiberglass. To make your purchase more environmentally-friendly, reduce pollution from transportation by choosing a local window and door company like Golden Windows. The company has a variety of sustainable windows and doors available for you to choose for your renovation and reduce your carbon footprint.
After planning for new windows and doors, you can try out some of these other eco-friendly renovations to make your home greener:
After you replace your windows, add insulation to the walls to depend on your furnace less. Remember to insulate your attic, even if you don't use the space.
When painting your rooms, use low-VOC or No-VOC paints—this means that the paint brand uses limited or few volatile organic compounds.
Replace your halogen lightbulbs with light-emitting diodes, otherwise known as LEDs—these lights are prized for their energy-efficiency and last much longer than the average lightbulb.
Even though it's an obvious answer to making a greener home, adding more plants indoors and outdoors will improve the quality of air and reduce your home's overall carbon footprint.
Making these changes is an admirable choice that will result in many rewards like better insulation, lower hydro bills and increased comfort. On a grander scale, these decisions will also lead to a smaller carbon footprint which will improve your community and help make the environment a little bit greener.