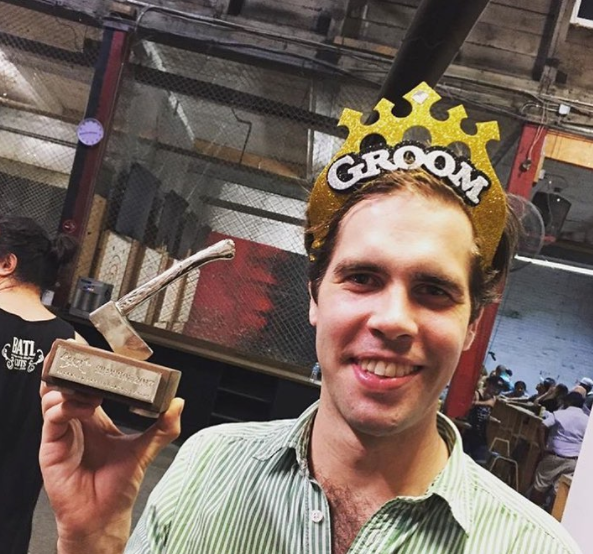 If you've been tasked with throwing your friend's bachelor or bachelorette party, you may feel that familiar anxiety sink in as you question whether you should throwthat kind of bachelor party…But more often than not nowadays, people are opting for a less overtly racy bachelor or bachelorette party, in favour of one that's just plain fun. It's not that people don't want to go wild at bachelor parties anymore – but, before that pub-crawl gets into full swing, or before you slide into the limousine for a night of debauchery, it's good to mix things up with a fun activity.
No normal activity, though. You need one befitting a wild night, which is why a lot of people in the Maricopa County are looking to axe throwing as a way to kick off their bachelor festivities. It is not only unconventional, but also competitive, exhilarating and it looks badass, all things that are key to pulling off a successful stag. With BATL, the Backyard Axe Throwing League, opening up in Scottsdale, this post will look at a few reasons you should put together an axe throwing party as the starting point for your next friend's bachelor or bachelorette.
Axe throwing isn't your average activity. When you book a large group for a party at an axe-throwing place, you get a lesson from a coach on how to properly throw an axe (pro-tip: lock your arms, don't flick your wrists when you throw, and plant your dominant foot for accuracy). So not only will you probably wake up the next day with a hangover, on account of the fact that you stayed out until 3am clubbing with your friends, but you'll also wake up with a new skill – fun!
The competitive aspect of axe throwing is also a great way to kick off any bachelor or bachelorette party, since it gets everybody engaged, gets the friendly one-upping going, and gets the adrenaline pumping. There's a reason why competitive activities are so often used in teambuilding exercises: it's because it gets everyone invested in the mutual activity, which brings people closer together. If you're planning a bachelor party where multiple friend groups are coming together, who don't really know each other, axe throwing is a great icebreaker.
Another thing that you can't discount is the fact that axe throwing looks badass. In this current, social media-centric age, you just know there are going to be multiple pictures posted of your bachelor or bachelorette party. Those pictures can either be of you and your friends starting off the night sitting on the couch playing a drinking game in tiaras (yawn), or they be of you throwing a literal axe (you can keep the tiaras on, though!). There's nothing cooler than lobbing an axe through the air while wearing a suit or dress.
All in all, the best part about starting your bachelor or bachelorette party with an axe-throwing tournament is that it sets the tone perfectly for the rest of the evening. It's going to be a wild night, so you might as well get people in the mood with a wild activity. For the next bachelor or bachelorette party you attend, don't just get hammered – get axed.