Summer may be coming to an end, but there is still a lot of warm weather left for swimming and enjoying the heat. Exercising in the water is a great activity for all ages because it provides a full body workout. The intensity can be increased or decreased, plus the water takes some of the impact stress off the body. Swimming, Aquafit, and water movement classes are all appropriate for seniors who may have restrictions on which activities they can perform. With the availability of pools in community centres, gyms, and residences, there is year-round access to easily fit into one's lifestyle. It's also important to keep in mind that we always want to improve your quality of water that you are drinking or swimming in!
Swimming has several benefits for seniors who are looking to stay active. On top of the exercise, getting outside during the warmer months is good for mental health, and there are increased social opportunities that come with a public workout. Please consult with one's medical practitioner before starting or changing an exercise regime. If you or your loved one has access to home health care services their personal Caregiver will know if any level of swimming or water-based physiotherapy activities are appropriate for them based on their condition and medical history.
Falling down and sustaining injuries is a problem for seniors as they age and begin to lose spatial awareness capabilities and mobility begins to become limited. Swimming helps prevent and lessen the frequency of slips and falls because swimmers improve their coordination and gain a better awareness of their bodies. Upper and lower body movements work in conjunction with one another in rhythmic patterns for coordinated motion. Falls are a serious concern because of the potential fractures, sprains, and other injuries as well as for the other health problems associated with being confined to bed rest and living a sedentary lifestyle while healing.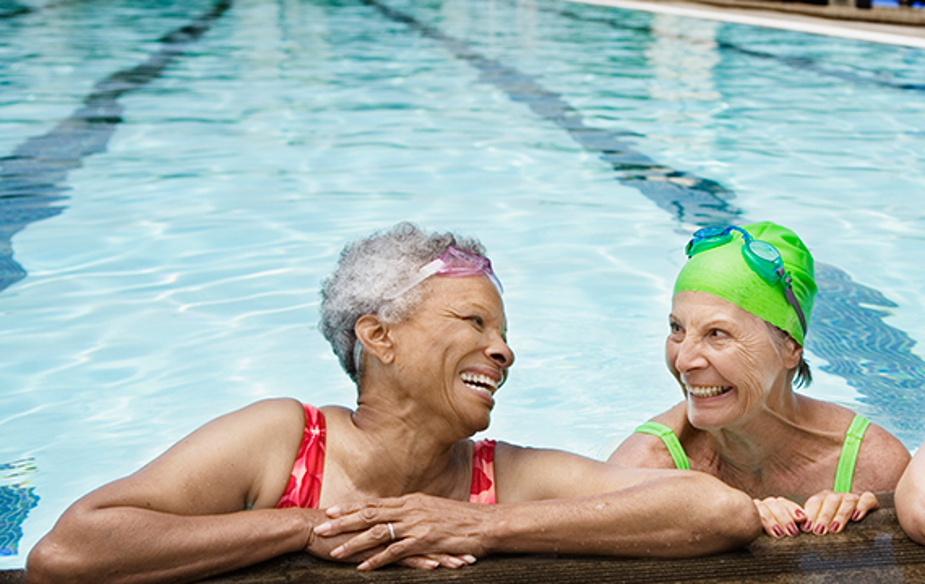 Swimming lessens pains while doing aerobic exercise. Aerobic exercises are good for heart health because they raise heart rate and strengthen the muscle. Increased blood circulation and respiration is also good for the nerves and joints due to the oxygen delivery around the whole body. The water provides buoyance that supports and lessens the strain on joints. Whereas walking has more of an impact on the feet, ankles, knees, and back from the hard pavement.
Water provides a natural, consistent resistance that is light and doesn't feel restricting, so it increases muscle strength. The motion in the feet, legs, torso, arms, shoulders, neck, and head gives a full body workout that increases flexibility, as well. Buoyancy supports weaker hips, back, and other problem areas. Weight-bearing and resistance exercise also leads to stronger bones which reduces the risk of osteoporosis.
There are mental health and social benefits to swimming, too. We all know how important water is for our bodies, but it's also important to know how important exercising in water is too! Increased oxygenation from the aerobic exercise is good for brain functioning and cognition. Swimming may be done in public pools where seniors can socialize with friends and strangers and form meaningful connections that might be otherwise lacking in their daily lives. Swimming is great for all ages, and it is a fun activity for families to do together. If the water is outside, spending time out of the house, in greener spaces, and in the open air is excellent for mental health, no matter what the activity.
If you or a loved one is looking for a way to integrate a lower impact, aerobic, strength- and flexibility-increasing activity, consider adding swimming to your or their weekly routine.