You may have heard about roof ventilation, but may have never given it much thought. It is a term used frequently by professional roofers to describe a feature in your home to which you may not have given as much attention as it realistically deserves. So, what is the big deal? Why is roof ventilation so important?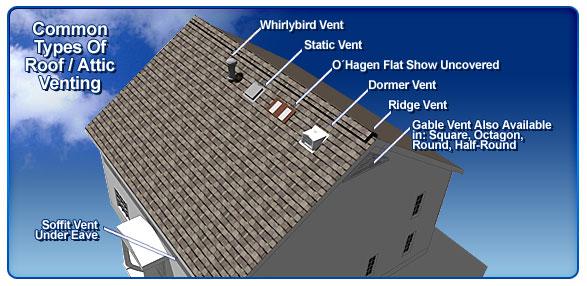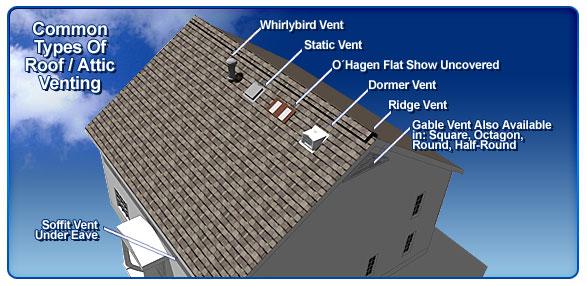 In order to prolong the life of the roof on your home, ventilation is an extremely important feature. Living in the Toronto area, homes experience a wide range of temperature shifts and harsh weather conditions. Proper roof ventilation can help prevent ice dams from forming – melting ice and snow needs a method to drain off your roof, an ice dam prevents the proper drainage, and can cause severe and expensive damage inside and outside of your home. Some people will tell you to install heating cables, but this is usually a poor choice; unless they are installed with the utmost care, they usually don't work and cause more damage than good. Additionally, heating cables can present a fire hazard that is frowned upon by most major insurance companies.
During the summer months, heat and humidity are modified by vents to help prevent mold growth, which can have adverse effects on your family's health. Another benefit to having proper roof ventilation is that is prevents damage to shingles from exposure to excessive heat.
There are effective strategies for dealing with the varying weather conditions in Toronto and protecting your home from the effects of unwanted humidity and heat. One method is to install ridge vents onto your roof line, which typically run the entire length of your home. A ridge vent is installed at the peak of the roof line and allows damp and hot air to leave through the attic. This allows the hot air to escape, and moisture dries up easily. Ice dams are prevented so those long, hazardousicicleshanging from the eavestroughs are eliminated. It is also an excellent idea to clean your eavestrough before winter comes along, so that melting snow can effectively spill over the drip edge and clear itself out through the eaves.
Ridge vents use a simple system of sucking up the air from the attic, using natural power from the wind. When using a proper roof venting system, you can prevent damage to your shingles. Heat rises, so heat from the attic won't travel down to your first floor, but up to the roof. This causes the shingles to become overheated. The heat becomes trapped and then the house heats up, and causes your AC to run more, running up your electrical bill. The transferred heat can also warp the wood framing in your attic, causing walls and floors to also become warped.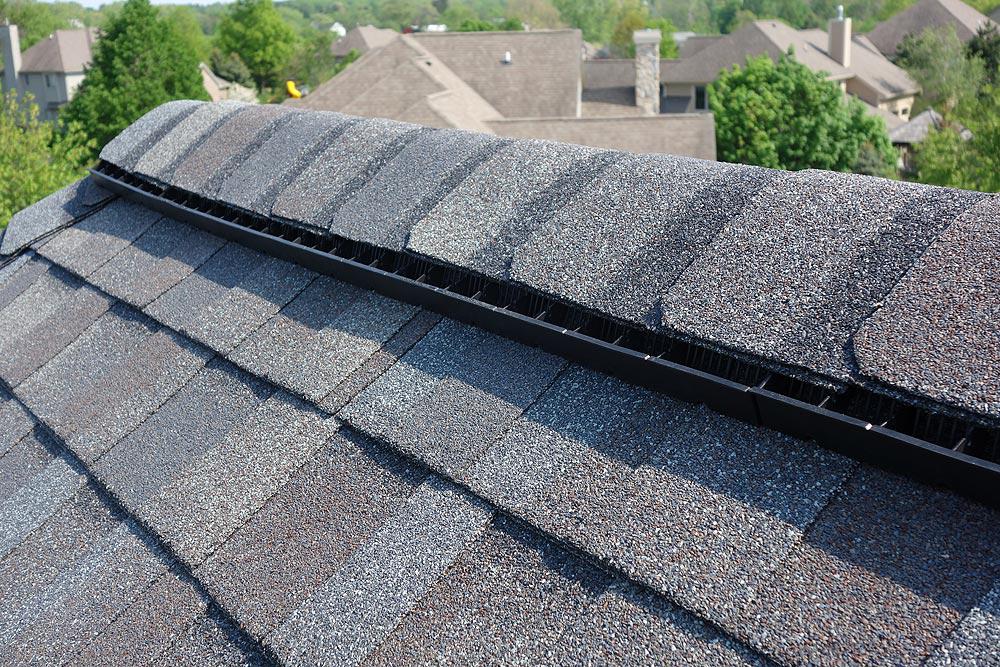 The importance of efficient roof ventilation cannot be overstated. It is believed that proper roof ventilation is one of the most underappreciated factors of home assembly and maintenance. All homes should have roof ventilation, no matter if it is in a cold climate or hot climate. One of the simplest points for roof venting is this: no matter how elaborate the architecture of your home is, roof venting will always improve the overall wellbeing of your house.