Some things in life are purely functional, and others are purely decorative. You don't worry about what your snow shovel looks like, and it doesn't bother you that your collection of NHL medallions doesn't do anything productive.
But a car is different; your car makes a statement about who you are, what you value, and how you live your life, but you also rely on it to get you safely to your destination. And just like you would never put style over warmth or comfort when picking out the jacket to get you through a Canadian winter, when buying a vehicle you want to find something that marries sleek design to smooth handling and reliability.
Over the years, Mazda has established itself in the international market as a particularly well-balanced automobile, with quality offerings whether you're looking for a family sedan, a crossover SUV, or a high-end convertible. If you live in the Greater Toronto Area, you can find a local Mazda dealer in your area without difficulty: just head to the one at YorkdaleDufferin Mall, which is easily accessible from anywhere in the city. It is also known for its selection, which makes it a great place to take any of these new Mazdas for a test drive.
1. Mazda3
The Mazda3, easily one of the most popular Mazdas on the road, blends functionality with performance, and its responsive steering and excellent handling make it a natural choice for navigating anything from winding country roads to busy city streets. It is available both as a sedan and a hatchback, and is perfect for commuters or young families.
2. Mazda CX-5
The CX-5 is Mazda's crossover SUV, and it has been praised for its fine handling and overall ease of driving. While smaller and less powerful than a full-size SUV, the CX-5 has fantastic gas mileage and delivers a smooth ride. It's a great choice if you want something that can handle urban and rural driving — the ideal vehicle to take up to the country for a weekend of skiing this winter.
3. Mazda6
The Mazda6 is one of Mazda's most popular mid-size cars, and it has the nimble handling, responsive steering, and fantastic gas mileage that have made Mazda a natural choice for buyers looking for a vehicle that is economical but also fun to drive. New models have also opted for a more up-scale, luxurious interior, so if you want a comfortable ride that will turn heads while saving your wallet, this is a good car to choose.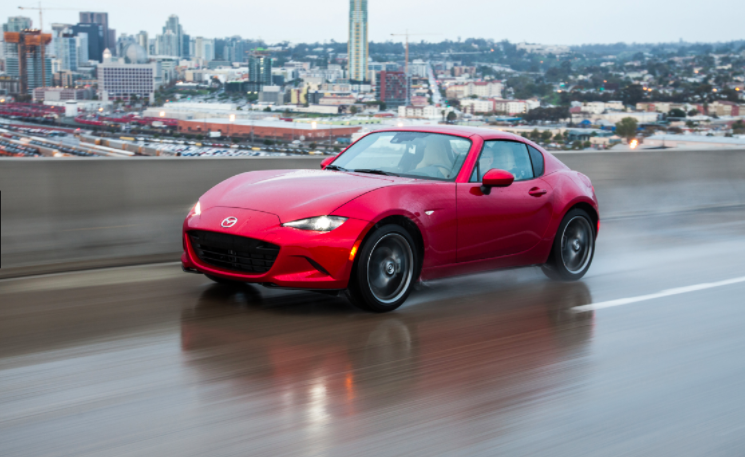 4. Mazda MX-5
The MX-5 is Mazda's convertible, and it is available either as a soft top or a retractable fastback. The 2017 model received rave reviews, including a five star review from Auto Express for its beautiful design, agility, and practicality. The pricing of the MX-5 is also extremely competitive when compared to other high-end sports cars, and its functional, street-wise design guarantees a high degree of reliability even in adverse conditions.
Buying a car is always a big decision, and one you'll have to live with for the long term. For this reason, it's best to try to find something that balances your different needs. But remember: this doesn't mean you need to sacrifice design for functionality, or beauty for performance.